Written by Alex Iskold and edited by Richard MacManus.
In this post we profile the red hot photo sharing space, where the blogosphere darling Flickr is actually trailing in the mass market. Back in June, Hitwise posted their online photo market statistics – which showed Photobucket with a huge market lead at #1 and Flickr at #6. A lot of Photobucket's lead is due to its high usage in MySpace pages – 56% of Photobucket's traffic is from MySpace, according to Hitwise. So marketing and being part of a large ecosystem are crucial. But also important is having simple and easy to use features. So we present here a feature-by-feature comparison and also highlight areas where particular services stand out from the pack.
Feature Comparison of Photo Sharing Sites
In the table below (which incidentally we did using Zoho Sheet, Zoho's online spreadsheet) we list companies from the Hitwise article as well as some additional 'web 2.0' photo sharing players.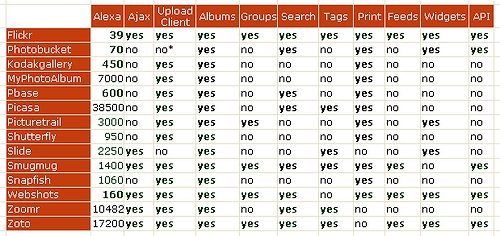 Note that for Alexa rank we highlighted the top 5 scores – Flickr, Photobucket, Webshots, Kodakgallery, Pbase.
Pros and Cons of each Photo Sharing Site
 
Pros
Cons
Flickr (owned by Yahoo!)
innovative, tons of cool features, drag and drop, sharing, RSS, badges, clustering
difficult to use for non tech savvy
Photobucket
simple, limited functionality, badges
perhaps too simple, annoying ads, no sharing and social web features
Kodakgallery
professional interface, targeting main stream
no sharing and social web features
MyPhotoAlbum
simple, has all the basic functions, each album has unique URL
no sharing and social web features
Pbase (not in the same space)
stunning professional photography, gallery-based implementation, simple
no sharing and social web features
Picasa (not in the same space yet – owned by
Google)
hard to say because it is not apples to apples, but editing photos is nice
basically not (yet) in the same space, not really web-based
Picturetrail
music associated with albums, lots of badge options
unbearably annoying ads during sign up, clubs instead of groups, does not seem
intuitive
Shutterfly
professional interface, targeting mainstream
no sharing and social web features
Slide (not in the same space)
runs on top of Flickr, Photobucket, etc. plugs into MySpace, blogs, etc. Fills nice
niche within the space.
focused on making slideshows (it's a limitation, if you want to consider this service
as a contender).
Smugmug
professional interface, a lot of album options, well thought through
not free
Snapfish
professional interface, targeting mainstream
no sharing and social web features
Webshots
has lots of social web photo features
ads, somewhat clunky, no tags (at least we could not find them)
Zooomr
conceptually interesting, some innovative UI, uses OpenID for login.
confirmation image gives you instant headache; no geography-only tag
cloud; the maps are cool, but not useful
Zoto
very well designed, has the most social web features
somewhat slow, lacks printing ability
Notes
Where's Yahoo! Photos? We excluded Yahoo! Photos from this comparison because we did not have access to the new Yahoo! Photos beta, so we felt it would be unfair to review it based on the old site.
The browser twist The social browser Flock has delivered two direct integrations with Flickr and Photobucket. What is interesting (and also somewhat confusing) is that Flock has made a special version to be distributed to Photobucket users. It is difficult to say what impact this deal has had on the photo sharing market so far, but it is likely that browser integration is going to play a major role in the future.
Conclusion
Firstly, we do not have a single online photo market. There is still a clear mainstream market led by KodakGallery and Yahoo! Photos. This market is basically focused on upload/album/print capabilities – and has little to none social aspects.
On the other hand, Flickr is a clear leader in the social photo sharing market. It has unmatched features, usability and community.
However the overall leader in the photo sharing market in general, and a good mix between mainstream and social web, is Photobucket. They have been able to add just enough social features, without getting too complex or fancy, to convert a lot of people from traditional photo sharing sites.
How is it all going to end up and who is going to win in this market? Time will tell, but it is likely we will end up having fewer players – and those that stick around will have a blend of features from the current mainstream and 'social web' camps. As for the bloggers' favorite, Flickr, the road to mainstream acceptance for Flickr is paved with tough competition and the need to simplify.